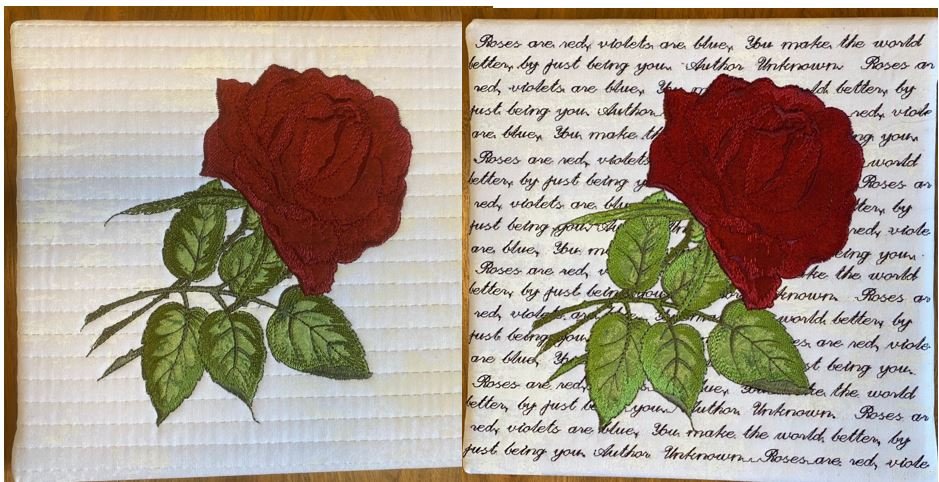 Class will meet in Feb, Apr, Jun, Aug, Oct, and Dec from 9:30 – 12:30 and 1:00 – 3:30 on the 2nd Monday.
Cost will be $300.00 or if students want to sign up for a single project the cost would be $120.00.
Limit: 8 students per class
In this club students will tackle more advanced and complex projects designed to take their creativity to the next level. Students should have previously applied Mastering Your Machine techniques and features and be very familiar with their machines. Some of the projects may require the use of optional accessories and feet or the purchase of design(s) from the mySewnet Library. Due to the complexity of the projects, the project may not be completed within the 6-hour class session which may require homework to complete the project outside of the club
October 2023 Pro Challenge 101 Club
Designer EPIC 2, Designer Ruby 90 and Designer EPIC Machines
Monday, October 9th, 2023 from 9:30 a.m. to 12:30 p.m. and 1:00 p.m. to 3:30 p.m.
Roses are Red Wall Art
In our class this month (October) we will continue to explore and review the top features within our amazing Husqvarna Viking sewing and embroidery machine. Let's take a look at how we can take machine stitches or fonts into embroidery and create some background texture for an embroidery design. This project gives us a chance to use one of the free appliqué embroidery designs from the mySewnet Blog. We will use Design Appliqué and Design Shaping when creating the background stitching for our project. In class we will program two different backgrounds, one with machine fonts and one with machine stitches. You decide which one you would like to stitch out in class. This is also an excellent project for the HV Mega Quilters Hoop (260 mm x 260 mm). The finished project is stretched over a 10" square painter's canvas.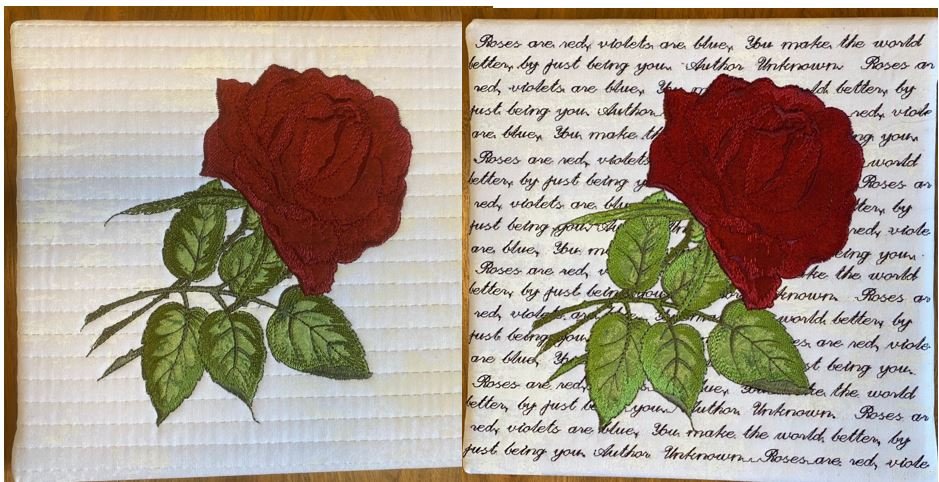 | | |
| --- | --- |
| Instructor: | Kathy Smith |
| Instructor Bio: | Kathy Smith Kathy began teaching machine embroidery classes part time at Patty's Sewing Center in 2012. Her quest for knowledge of all things sewing and embroidery began many years earlier when she purchased her first Husqvarna Viking sewing and embroidery machine. Once Kathy retired from her second career in 2016, she was able to devote more time to teaching a variety of classes at Patty's. She enjoys teaching and sharing her passion for machine embroidery with others. Kathy completed the Jenny Haskins Online Academy of Accredited Tutors in 2011 |